Why Right Now Is a Great Time to Buy a Home
While it has never been a secret to those with a fundamental degree of financial literacy, buying a home can be an outstanding way to invest your money. Rather than watch rent go up in smoke on a monthly basis, homeowners are able to build equity in an asset that is likely to appreciate, as the real estate market has generally increased throughout the years with more stable gains than have other investment options.
Factors to Consider Before Buying a Home
Although you have likely been weighing some factors pertaining to this monumental life decision, the following points illustrate why right now is a golden opportunity for home buyers.
The Interest Rates are Historically Low. One of the most significant barriers to entry in the real estate market has traditionally been the interest rates and for good reason. After all, when mortgage rates peaked in the early 1980s at around 18.5%, an overwhelming portion of the total mortgage payment would end up being paid in interest. However, the average APR on a 30-year fixed-rate mortgage is currently hovering around 3.06%, which marks a historically low level. To consider just how phenomenal this rate is, consider that inflation typically rises at an average of around 2%. So by locking in a mortgage rate at around 3%, you would only be paying about 1% more than the cost of inflation to purchase a home, which is incredibly cheap financing to use a lender's money to make your house payments.
Innovative Materials Make Owning a Home Less Expensive. One of the advantages of renting is that the landlord is in charge of all maintenance and repair costs, whereas homeowners are responsible for these costs themselves. Therefore, when people are budgeting thin to make a projected mortgage payment, the thought of an expensive home repair popping up and blowing up the budget can give them serious pause. However, much of this concern can be alleviated by the many modern and innovative building materials on the market. Homes made out of concrete, those that feature steel log siding, and houses that make use of synthetic roofing options should theoretically last a lifetime when given a modicum of care, eliminating much of the concern about major framing and foundation issues popping up after purchasing the home. In addition, advances in interior design, eco-friendly appliances, and elite insulation products have caused energy consumption in homes to dwindle, meaning that homeowners are increasingly paying a comparatively smaller portion of their paychecks on utilities.
The World is in a DIY Renaissance. One of the traditional drawbacks of owning a home was that unless the homeowner was handy by nature or a carpenter by trade, any home improvements would have to be bid out to contractors. This left homeowners at the mercy of who was available to do their job, with the total cost likely to be eye-popping. While large, multi-facet remodeling projects should still be left to the professionals, the plethora of informative home improvement blogs and videos available online make routine home renovation available to those with some patience and ability to follow directions. Homeowners can simply type in keywords such as "how to install different types of roof tiles" or "how to add trim to a pass-through window" and be met with a wealth of information, allowing them to decide if a DIY project is something they may want to undertake.
Buying a Home with Community Mortgage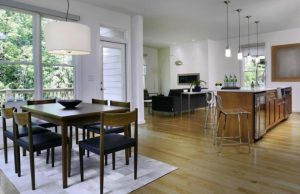 Owning a Home is Fun in 2020. Many of the traditional stereotypes that may have surrounded homeownership, such as a cookie-cutter house with a two-car garage in the suburbs, are a thing of the past. Innovative materials and creative design ideas have truly allowed contemporary homeowners to get into their dream home. Whether your ideal home comes lined in photovoltaic panels to create its own electricity, quartz countertop islands in the kitchen to avoid the need for traditional walls, or a front lawn made of gravel to eliminate the need for water, there is sure to be a home on the market that will satisfy your imagination.
Conclusion
Although purchasing a home has always been considered a sound financial decision, 2020 has truly brought with it a golden opportunity for home buyers. From historically low-interest rates to an abundance of innovative, durable, and cost-effective building materials, there is no need to wait any longer in making an offer on a home of your own. Contact us today at (619) 692-3630.
Skylar Ross is a contributor to the Innovative Materials blog. He is a content writer for the construction and home improvement industries with an interest in landscaping, outdoor remodeling, and interior design. Skylar is focused on educating homeowners, contractors, and architects on innovative materials and methods of construction that increase property value, improve sustainability, and create a warm and welcoming ambiance.