Getting the Most Out of a Refinance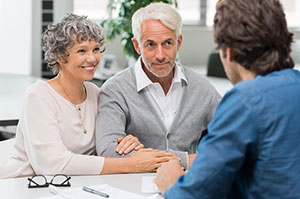 A past client came to us a few months ago interested in a refinance. They had actually done a refinance with a different company last year and realized that it did not meet all of their financial needs. What they were looking for was not unusual, but it was more complicated than a standard refinance.
This husband and wife are a police officer and dental assistant. They have a goal of retiring in the next 10 years and when they looked at their current debt payments, they could not save as much as they wanted for retirement.
So, we took a look at their whole financial picture. They had $23,000 in high interest revolving credit and $12,000 in other loans they wanted to consolidate. They were paying a lot in interest each month with no clear end in sight.
After understanding their situation, we recommended a cash-out refinance. This is where you take some of the equity out of your home in the form of cash to do things like paying off other debt or a remodel. They took out $45,000 in equity from their home, which allowed them to pay off their credit cards and a car loan, plus put some money in the bank.
In total, their mortgage payment went up about $200 per month. With their debt consolidated, their monthly debt payments went down $950. Now, they are in a much better position to save more for retirement and know that their monthly payments will be lower once they do retire.
In order to get the most out of your refinance, it is important that your mortgage professional take a look at your complete financial picture. If you would like to talk about what you might get out of a refinance, we would be glad to schedule a no-obligation meeting. Just reply to this email or give us a call at (619) 692-3630.